Table of Contents
Complete Love: The Missing Piece
Harmonyum Healing Levels I & II Training Weekend
with Dr. Joseph Michael Levry
October 3-6, 2013 | Prague, CZ
Join us in Prague, CZ for a powerful four-day Harmonyum training weekend with world renowned Yogi, mystic and Universal Kabbalah Master, Dr. Joseph Michael Levry. Open the universal panacea by learning the highest methods of healing and diagnosis, understanding the intricate union of the physical and spiritual bodies, and gaining true insight into the root cause of all chronic conditions. Through purity of heart, practitioners of Harmonyum are able to assist in profound and permanent healing by reestablishing the harmonious flow of love in the body. This healing application of Divine Spiritual Wisdom is an art and a science that is designed for the infinite capacity of the heart. Harmonyum activates the seed atom of the soul with the Divine and Heavenly Fire so that its static condition can be transformed into one of kinetic activity, leading man to transformation, rebirth and complete regeneration. During this undeniably transformative weekend you'll have the opportunity to experience hands on instruction, practice sessions and advanced group meditation to activate the healing source within.
Testimonials from Clients and Practitioners
Miraculous Recovery After a Serious Heart Attack Show / Hide
After getting back home from my weekend at the Naam Yoga Center in NYC, where I learned Harmonyum Healing, my father was the first person I practiced on. I gave my Dad his first treatment on Wednesday morning. That night I received a call that my Dad had experienced a severe heart attack and was taken to the hospital. My Dad was in poor health. He had 8 stents in his heart and his arteries were clogged at 60, 70, 80 and 92% depending on the artery. Three weeks prior he gave me papers telling me his cremation was all paid for so that if anything happened to him he would be all set. That night at the hospital the doctors explained to me that the body releases a certain hormone to repair damage done to the heart following a heart attack. A severe heart attack is accompanied by a hormone level of 100. My Dad's level was a 3! The doctors were taken aback. Harmonyum helped save my dad's life! Thank you to all the people who touched my life to bring me to Gurunam and thank you to all of the amazing people who assisted me in learning Harmonyum! Much gratitude and love to you all. -Emily

An update from Emily
I wanted to share with you that I saw my Dad tonight. He had a physical yesterday and his doctor informed him that he does not have a trace of damage done to his heart after his heart attack!!! You can bet I told him it was the Harmonyum! I am not sure he knows what to make of it all! Please feel free to pass this along to the Harmonyum Healing Team! Much Love and Blessings to you!
Powerful Complimentary Cancer Treatment Show / Hide
In June of this year, our three-year-old daughter, Willa, was diagnosed with a rhabdomyosarcoma, a soft tissue tumor, located in the area behind her ear near the mastoid sinus. This tumor was only 2.5 cm in size at the greatest dimension; however, in the period of a week, she went from no noticeable symptoms to severe lethargy, constant headaches and she lost the ability to move her right eye to the side. We also learned that her ear drum and middle ear was destroyed by the tumor. She began conventional therapy immediately, which included radiation and chemotherapy. We were warned of the expected side effects - nausea, vomiting, weight loss and the destruction of the eighth cranial nerve (the nerve that controls hearing). Early in her therapy, through our friendship with our yoga instructor Jessie, we were introduced to a complementary therapy, Harmonyum. Jessie has been working with our daughter Willa over the past few months providing her with the Harmonyum I and II course of therapy. One of the challenges facing alternative and complementary healing practices is the difficulty proving what effects can be attributed to conventional practices and what is due to alternative treatments. We cannot answer this question, but know from Willa's experiences that many wonderful things have occurred that were beyond all of our expectations. We believe that the Harmonyum treatments have made a profound and significant contribution to her healing. First and most importantly, her tumor has decreased in size by 60%. Her energy has returned, and all evidence of pain has disappeared. She has gone back to being an active kid - full of spirit. She looks forward to her Harmonyum treatment each week - she seems to fully relax during this time - and when asked tells me her treatment was "great" - not exactly expected from a squirmy three-year-old. More objectively, her appetite remains fantastic through her chemotherapy. She has maintained her growth curve for both height and weight. Even more surprisingly, her hearing has been preserved (even after concentrated doses of radiation to that area), and the nerve function of her eye is returning. And most importantly, she remains happy, positive and full of life.
-Sarah F., MD and Michael F., MD
Chronic Skin Problems Show / Hide
Two years ago I had developed a quite serious and persistent case of psoriasis which burned and hurt terribly. I went from doctor to doctor but each one progressively suggested a stronger antibiotic. After taking both internal and external prescriptions my skin only became worse and the pain intensified. My feeling of wellbeing drained away with each passing day and there seemed to be no hope for a cure in sight. I remember sitting down one day and quietly praying. Without knowing or understanding what I was really asking for I said to God that I was ready for the next phase of my life, that I no longer wanted to be stuck in this condition. Within weeks a mysterious chain of events had begun to move my life in a direction I could neither imagine nor make sense of. All I knew was that I was becoming happier and hope steadily seeped back into my being. Each new person that came into my life taught me a new more open-minded way to think and pointed the way to the next until I had found Dr. Levry and learned about Harmonyum. While I had learned much about alternative treatments and new age ideas I was still sick and in pain. You could say I was well-read but practically speaking I had yet to experience any real progress. Without hesitation I requested a Harmonyum session with one of the trained practitioners. I still remember the beauty of that magical healing. I had read a lot about energy but within minutes of lying down on the table I began to truly feel waves of warm vibrations move and circulate throughout my whole body. Within that same session all pain left, the red patches became white and my skin was infused with a glow that I had never ever seen in myself before. I could hardly believe something so amazing existed. With consecutive treatments I actually realized that it was me causing this horrid disease. It was I and no one else that everyday contributed to the pain. Harmonyum made me aware of my subconscious habits. Whatís more is that it also gave me the willpower to stop repeating them. Once I cut off the cycle my body healed permanently. Today, I am a certified Harmonyum practitioner and not a day goes by that I donít think back and offer thanks through my tears to God for teaching me His Love.
-Arthur
The Heavenly Experience of Harmonyum II Show / Hide
I recently had my first experience receiving a Harmonyum II treatment, when a fellow practitioner came to my house so that we could exchange treatments in my garden. After giving her a treatment, I laid down so that she could begin working on me. As soon as she began, I felt the sensation of multiple fingers alternately applying pressure to my crown and my forehead. I reminded her that she didn't need to touch me during this phase of the treatment. She replied that she wasn't touching me. I smiled in amazement with the realization that what I was feeling was coming from another Source. When the session was over, both she and I were struck by its intensity. There was no denying that something Divine had happened. Harmonyum is such a blessing and a gift. This wonderful experience and journey has only reconfirmed to my scientific mind that, ultimately, it is all God. I believe that the profound work I am doing with Naam meditation purifies my soul and helps me fulfill my destiny, above and beyond the title of MD I carry. Dr. Levry, I thank you deeply for being such a pure and clear vessel for these teachings. May God continue to bless you.
-D.B.
Regaining Consciousness Following a Major Stroke Show / Hide
It was a hot day in August. My mother, who has always been very connected with the earth, had spent many hours working in the garden under the hot summer sun. That same evening, she hosted a small family get together. In the early morning hours of the following day, as she lay asleep in her bed, my mother suffered a major stroke. It was her second. The housekeeper who found her called the doctor immediately but by the time he arrived, my mother had slipped into a coma. With her pulse extremely weak, it was believed that her time to transition was near. A priest was called to administer last rites.

As I rushed to my motherís bed side, I asked that Lumen de Lumine be played in the house, without interruption. When I finally arrived, I had my sister stand at my motherís feet, while I began to give her Harmonyum 2. I followed with Harmonyum 3 and a hand massage as shown to us by Dr. Levry, focusing a lot on the heart reflex point in the hand. Upon completion, I placed my motherís hands in Healthy Heart mudra. As my sister held her fingers in place, I began to massage her feet. It didnít take long before my motherís eyes flickered open. It was amazing! Although she was not fully conscious, she was able to drink a bit of water and her breath had deepened.

That night, I went to sleep feeling very grateful for the beautiful healing power of Harmonyum. After about an hour, I was awakened by a voice instructing me to give my mother another treatment. I gave her another Harmonyum 3 treatment and foot massage. As soon as I finished, she opened her eyes and was fully conscious. The next day, when my sons arrived, my mother was able to speak, and greet them by name. In the weeks that followed her stroke, my mother continued to recover slowly. Although she remains in a wheel chair today, she is blessed to be able to walk a few steps and speak. In fact, she continues to ask me for Harmonyum treatments. I pray that with additional treatments, she will recover fully. I am so very grateful to have learned this healing science and to be able to share it with my family.
-Inge
Miraculous Healing of Debilitating Headaches Show / Hide
I feel a strong need to share my personal experience, which I received as a great gift by the Hierarchies of Light through Dr. Joseph Michael Levry (Gurunam). It all started several months ago. I had developed a deep, debilitating pain in the right part of my head that radiated to my right ear. It ...was so intense that I lived under the constant fear that the huge pressure I felt would cause the blood vessels in my brain to burst. The whole right part of my head and face cramped more and more and the pain expanded throughout my whole skull and down to the right half of my chest. When the pain was at its worst, I also suffered from dizziness, which rendered me completely unable to fulfill my daily tasks. It got to the point where I could no longer form concrete thoughts. I felt as though my brain was being deprived of oxygen. And on top of all this, my ability to hear from my right ear diminished so greatly that I almost became deaf in my right ear. I assumed the worst. Either I had a brain tumor or otosclerosis, I thought. After countless doctors, specialists, and a slew of tests no one was able to diagnose what was wrong with me. I was at my wits end.

The time came when the Harmonyum seminar in Zurich was coming up, for which I had already registered some months ago. I waited until the very weekend before the training, still hoping that I could participate, before letting the team know of my condition. At that point my situation seemed hopeless. I called Deborah, a member of the Harmonyum Team in Switzerland, and cancelled my participation. She was very kind and gave me a lot of comfort with her sympathetic words. I was deeply humbled by the events that followed, which seemed to me like they were orchestrated by the Universe in perfect synchronicity.

Deborah informed Dr. Levry of my whole situation. Within days I received a message from Dr. Levry through Sanne, the head of Naam Yoga and Harmonyum training in Germany, with a personalized meditation practice to help me regain my strength. Next, as a gift to my husband and me, Dr. Levry invited us to attend the Harmonyum training in Zurich. On top of that, I was blessed with the gift of receiving daily Harmonyum treatments specifically adapted to my unique health challenges during the training. This was an incredible gift, which deeply touched me. From this moment on I knew that I was in Godís hands no matter what would happen. With my husband to accompany me, I was able to travel and attend the weekend.

After the first two Harmonyum treatments the pain, which I had felt for months, had begun to diminish. On the third morning, I woke up for the first time in months without any pain! The pain came back, however, from time to time during the course of the day but on the fourth day I was completely pain free! I began to hear sounds more acutely in my right ear, and felt tickling and twitching inside my ear. Something was definitely going on.

When I returned home from the training, I knew the healing energy would continue to work on me. I continue the meditations and exercises I was given by Dr. Levry and am ecstatic to declare that I have not experienced any recurrence of pain to this day. Although my hearing in my right ear is still not as good as in my left, it has improved enormously. I am confident that, with time, it will be completely restored. I am grateful to the Lineages of Light for their support; I know they have not left my side. I want to thank Chris, one of the members of the Harmonyum team, for his wonderful treatments and for the fact that nothing could hold him back from working on me every day. My thankfulness also to Sanne, who immediately acted and served as a "mediator between the Master and I" and last but not least to Deborah who set into motion this amazing chain of events through her great heart and compassion.

From the depth of my heart I am grateful to our Master Gurunam who taught me that he is always with me even though we are thousands of miles apart. I deeply bow before the power and might of HARMONYUM, which I practice with sincere reverence and humbleness.
-C. L.
Conflicting Career Paths Show / Hide
For 7 seven years I have been struggling with two conflicting career paths, unable to decide which one I wish to follow. With each day the tension mounted. The interesting thing is that in all the commotion and emotional chaos I couldnít even remember when I made the decision to become an Opera singer. Seven days after the October Harmonyum weekend, as I drifted off to sleep a voice said ďYou chose to do this when someone told you couldnít do it.Ē I finally realized that instead of wanting to be an Opera singer, what truly made me feel fulfilled was using my voice as a healing instrument, to touch peopleís hearts and uplift them. Since that turning point every time I sing I feel free. Singing has now become an affirmation of my soul and spirit and the Love of God. I am no longer in a state of duality. Now my future is one of touching and healing as many people as I can with my singing gift. Even though I have a spiritual practice and the planetary knowledge to guide me in my daily life, Harmonyum made it easier to see the invisible seed.
-Sabine
Old Injuries and Chronic Pain Show / Hide
I am an active 64-year-old man that works out heavily 12 hours a week. About two months ago, I ran into Jessie (who has been my primary yoga instructor for about three years) outside of my health club with a bag of ice for my knee. She looked concerned and asked what was going on. I told her I had an old knee injury that that was bothering me, and the subsequent swelling and inflammation needed some attention. Jessie began telling me about Harmonyum healing, and I jumped at it, since the pain I was experiencing was keeping me awake at night, and I was not getting my rest. I began noticing some relief after three sessions. Since completing all seven, the inflammation and swelling is completely gone, and I am back to my normal workout routines. As a bonus, the tendonitis in by left elbow has also disappeared. Thank you Jessie, I really appreciate your teachings in yoga and your healing practice."
- L. J.
Trying to Describe the Harmonyum Experience Show / Hide
If you have never had a Harmonyum treatment, the best way I can put it into words for you is that it feels like you are receiving a giant, warm, gentle hug from God, light, and the good things in the universe. It's wondrous. Your body relaxes, your mind just drifts, and your whole being revives, nourished, satiated and warm all over. You're not asleep, but you feel like it. You're in a healing trance, a loving, safe place where true healing can take place, of the body, heart and soul. If you are ready for transformation on every level, ready to walk the highest path the universe has prepared for you through your own divinity, then find your nearest certified Harmonyum practitioner, and go for a treatment. I used to think massages were the best way to relax! If my mind never came out of a massage feeling, well, massaged, my body felt great, and so why should I complain? That was before I got a Harmonyum treatment! My muscles got worked on in a massage, but my heart and mind came out as busy and full as when I went in. Harmonyum gets into all three levels, and even deeper. It's non-invasive, and if you are uncomfortable being touched in a massage, you can receive a Harmonyum treatment where the practitioner doesn't lay a finger on you. You are fully clothed, comfortable, and if nothing else, it's a chance to take an hour out of your hectic day and just chill out. Who doesn't think that sounds wonderful? Harmonyum heals Karma, using energy work, gentle massage and your own power to self heal. Most holistic medicine believes in not just treating the symptoms of an illness, but finding and treating the root of an illness. Harmonyum is the most direct path to this that I, as a healer, have ever seen. But again, you'll have to try it for yourself.
-A.K.
Born with Spina Bifida Show / Hide
Just wanted to share a quick story about my little friend Nico. He is a special boy I have been blessed to have in my life. He was the first person I gave Harmonyum to! Nico was born with Spina Bifida and spent the first 40 days of his life in intensive care. He has undergone several spine, heart and other operations. Even though he is confined to a wheelchair he is a bright and energetic boy with the biggest Spirit of anyone I've ever met.

Recently, Nico had to undergo surgery to implement a new valve in his heart. His parents played Ra Ma Da Sa for weeks before the surgery and every minute in the hospital. Nico has had 4 Harmonyum sessions before his operation and I continue to give him treatments regularly. Nico was expected to be in intensive care unit for a week and then 19 more days in the children's ward but was sent home in only five days due to his rapid recovery. In fact, the surgeons and nurses can't understand how he was able to heal so quickly and are in complete awe. His incision looked months old after only a few days. What's more, the doctors and nurses love the sound of Ra Ma Da Sa. The other families and staff all gravitate to Nico and comment on the bright light shining from this little man. To me, he is a miracle and an example of what it means to never give up.
-Maura McCormick, Harmonyum Practitioner in Cape Cod, MA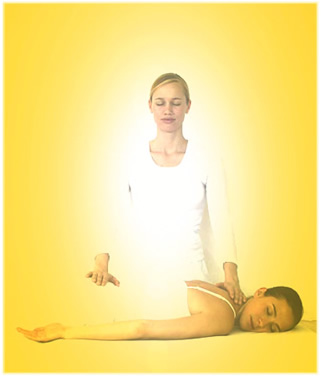 What is Harmonyum Healing
The golden key to efficient, therapeutic treatment of a harmonious nature is to change the rate of vibratory energy functioning throughout the entire physical body so that it becomes what it was first decreed by God when He said that man would become a living soul because he had the Breath of Life within his physical body. Harmonyum is a Divine, non-invasive healing tratment that assists in raising the body's vital energy and rate of vibration in a way that cannot occur with medicines, herbal extracts, drugs or manmade substances. Just as water nourishes your skin and organs, Harmonyum nourishes the life within you, causing it to flourish and awaken faculties within you that you never knew existed. It is the reservoir from which health, peace and happiness emanate, vivifying your life and correcting all negativity and dysfunctions in your being.

We often hear that the body exists in a fragile state, is prone to illness, and can simply wear out through illness or neglect. While it is true that we should care for ourselves proactively so that we do not fall ill, the human body is in fact a sensitive, evolved temple that is able to repair itself completely. Harmonyum Healing enhances our body's digestive, nervous and immune functions so that our self-healing mechanisms can kick into gear, diminishing the cycle of disease.
l Harmonyum clears the mind of negative thoughts and brings harmony to one's feelings and emotions.

l Facilitates accelerated recovery following an injury, illness, surgery, stress, fatigue and more.

l Creates a powerful buffer to highly demanding and/or chaotic situations and gives you the ability to remain calm and collected in times of increased stress.

l Harmonyum is one of the rare healing systems that allows the recipient to disconnect from the negative genetic traits that may be present in their family line.
Complete Love is the Missing Piece to Permanent Healing
"It is vital for a growing child to experience complete love from their parents. From the beginning of life in the womb to the first few years after birth, the child must receive total and complete love. If for some reason there is a gap, or lack of complete love, complementary love must be given in order to fill the gap. This is very important because the person feels what is missing, but finds it difficult to express or relate their need for love, even at the latest stages of life. Most people cannot share this inner feeling of inadequacy and longing, even though it is ever present in their lives. People are looking everywhere for the missing love, but cannot find it because in most cases they do not know or even understand what is missing. They search the world, going from ashram to ashram, seeking spiritual initiation or following religious cults and engaging in unhealthy love relationships and all forms of addiction. This missing piece is at the root of all unhealthy relationships and emotional disturbances. Harmonyum is one of the rare healing systems that not only heals you, but most importantly, brings this missing love. Harmonyum gives you Divine Love to make up for the missing love. It seals the gap and makes the person whole."
-Dr. Joseph Michael Levry, Harmonyum Healing Training in Switzerland, Oct. 2010
What You Can Expect During the Training Weekend
Join Universal Kabbalah and Harmonyum Master, Dr. Joseph Michael Levry for the first training in our international headquarters, Naam Yoga LA, our new healing and research center in Santa Monica, CA. Open the universal panacea by learning the highest methods of healing in this powerful, healing and transformational four-day Harmonyum training weekend.
Sample Itinerary
Friday

9:00

-10:30am

Registration/Check-in

10:30

-12:30pm

Opening Meditation & Lecture

1:45-5:00pm

"The Art and Science of Healing and the Secret to a Permanent Cure" Lecture

6:30-9:00pm

Lecture and Group Meditation to Expand Your Vessel of Light
Lunch Break at 12:00pm
Dinner break at 5:00pm

Saturday

9:00

-12:00pm

Harmonyum I Technique

1:45-5:00pm

"Activating the Healing Source Within" Lecture, Meditation
and Practice Sessions

6:30-10:00pm

7 Creative Planets
Healing Mudra Series
Spiritual Anatomy of the Spine
Group Meditation
Lunch Break at 12:00pm
Dinner break at 5:00pm

Sunday

8:30

-12:00am

Harmonyum I Practice Sessions

1:45-5:00pm

Harmonyum II Technique
and Practice Sessions

6:30-10:00pm

Special Circumstances Lecture
The Seed Sounds
The Electro-Magnetic Field
Group Meditation
Lunch Break at 12:00pm
Dinner break at 5:00pm

Monday

8:30

-12:15pm

Harmonyum II Practice Sessions

2:00

-3:30pm

Final Q & A
Group Meditation

3:45-7:00pm

Role of Harmonyum Practitioners
Final Lecture and
Special Closing Group Meditation
Lunch Break at 12:00pm
15 min. Break at 3:30pm
Registration Price: $1,350 if paid-in-full by September 15th.
Association members please call to register.
Note: As the healing science of Harmonyum is continuously evolving, this training will allow students the opportunity to learn the latest forms of the Harmonyum I & II techniques, including their specialized applications.
Date & Time: October 3-6, 2013.
Location: TBA
Registration: Register online by clicking below. For questions, please contact +1 646 291 6174 or email harmonyum@naamyoga.com. ProsŪm kontaktujte Kateřinu Kolihova na kkolihova@yahoo.com nebo 734 480 033.