Universal Kabbalah and Harmonyum Certification
California Summer 2007 Tour
with Universal Kabbalah Master Joseph Michael Levry (Gurunam)

Experience the uplifting and transformational power of Universal Kabbalah, Naam Yoga and Harmonyum Healing during our summer 2007 California tour!
July 17th to 23rd 2007 • Malibu, Santa Monica & Santa Barbara, California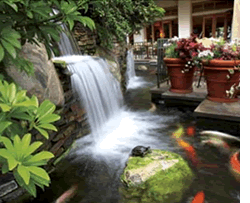 Enhancing the Human Blueprint: Reprogramming the DNA with Naam and Universal Kabbalah


Wednesday, July 18, 7:30 - 9:30 pm

/

Santa Monica
There is a particular way of working on the 10th gate in order to cause the other 9 gates to serve you. It opens the heart, brings serenity, maximizes brain potential and creates a total communication with the Infinite. Gurunam will guide his students in the art of opening the universal gates of health and blessings through the Divine Spiritual Wisdom of Universal Kabbalah and Naam Yoga. $30 entrance fee.

Location: The Fairmont Miramar Hotel 101 Wilshire Boulevard, Santa Monica, CA 90401 (310) 576-7777 in the Wilshire Room 1 below the lobby. A nearby public parking structure is on 2nd Street. The first two hours are free and rates are $3.00 after 6:00 pm. Valet parking is available at the hotel for approximately $11 per hour.

---

Universal Kabbalah and Naam Yoga - The Vibration of Healing
Thursday, July 19, 6:00 - 8:00 pm

/

Santa Barbara
In this combined yoga, lecture and meditation class, Gurunam will discuss and demonstrate the laws of sound, word, attraction, transformation and transmutation. Gurunam will teach this special class based upon the aura of the audience in attendance. $25 entrance fee.

Location: Siddhi's Yoga Ranch 6200 Casitas Pass Road, Carpenteria, CA 93013 (805) 566-0956. Call in advance to pay by credit card (805) 624-1420.
Directions From Santa Barbara: 101 South, Exit Casitas Pass Road. Turn Left off the exit. Turn right at stop sign. Drive one mile to the driveway on your left.
Directions From Los Angeles: 101 North, Exit Casitas Pass Road. Turn Right off the exit. Turn right at stop sign. Drive one mile to the driveway on your left.



Harmonyum Levels I/II Certification Training
Friday, July 20 - Sunday, July 22 / Malibu
Located at the Beautiful Serra Retreat Center 3401 Serra Road, PO Box 127, Malibu, CA 90265. You may take a virtual tour of the grounds, facility and optional lodging rooms at http://www.serraretreat.com. It is surrounded by 360 degrees of canyon and ocean view and is peacefully nestled among green gardens, fountains, a labyrinth, view points and fresh air. Modest lodging is available on sight on a first come first serve basis. We anticipate this to be a popular option so please let us know if you would like for us to reserve space for you.

Private Appointments
A limited number of private consultations and Harmonyum Healing sessions with Joseph Michael Levry (Gurunam) are available. Please call (805) 660-0333 to arrange a session.

For complete details, including a welcome package, please call 1-888-852-2100 (USA)
or 805-624-1420 (International) or email inquiries@rootlight.com.

Click here to learn more about the Harmonyum Healing.