An Expression of Divine Truth
Authentic Spiritual Jewelry for Healing and Spiritual Growth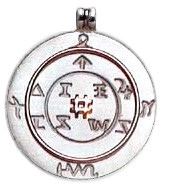 Spiritual initiates have found that gold and silver respectively stand for the Sun and the Moon. Gold stands for the solar or electric force, whereas silver represents the lunar or magnetic force. The precise combination of gold and silver will behave like the Star of David, the perfect expression of the basic principle governing life, electricity and magnetism. Thus, initiates knew that fusing gold onto silver would steady the forces of life making one more fortunate. The importance of balancing these two energies, which respectively stand for the Sun and the Moon, is extremely helpful for those who desire to ease the fluctuations of life. The proper mixture of gold and silver can be a very powerful talisman as one opens to the beneficial influences of the Sun, the masculine principle, and the Moon, or feminine principle.

These powerful silver and gold medallions have been crafted and empowered under constructive cosmic laws and uniquely inscribed with mystical symbols which express irrevocable Divine truths. According to authentic and positive arcanal formulas, the medallions will offer help, hope and comfort, guidance, security and protection. They have been designed to magnetize opportunities and attract wonderful blessings. By wearing these combinations of powerful symbols given to us by the invisible realm while chanting the mantras from the Rootlight Sacred Music Series, you begin to activate the cosmic energies that they represent. A consistent chanting practice and dedication to the Divine Spiritual Wisdom will bring these medallions to life.
---
Mystical Talismans
Each medallion is accompanied by a suggested CD from our Sacred Music Series in order to help better connect you to the beneficent influences that your Sacred Talisman represents and to accentuate their impact on your magnetic field. We highly recommend that you read Lifting the Veil and the Divine Doctor as well as the Alchemy of Love Relationships to familiarize yourself with the laws of nature as they apply to your life, your health and your love life. In addition, the book the Code of the Masters gives you the humble details regarding the use of the Word.
For a more detailed description of each CD and to hear sound samples, please refer to the CD listings in our store. Many individuals prefer to utilize all of the meditations contained on each CD by listening to them while driving, working out, at work, meditating, relaxing or sleeping.

Note: All of our pieces are exquisitely produced in sterling silver and 18K gold and include a sterling silver chain.
---
Grace Talisman Price: $250.00

For spiritual expansion and healing. This medallion will increase your sense of personal relation to the heavens. The combination of symbols upon Grace will attract Angelic gifts and blessings. You will become connected with the healing energy of the cosmos.

---

Radiance Talisman Price: $250.00

For increasing auric brightness, vitalizing the body and generating success. This medallion calls upon the energy of the Sun. As you are surrounded with the beneficial light of Heaven, you will become energetic and radiant. The combination of symbols upon Radiance brings vitality and generates success in all arenas of life.

---

Abundance Talisman Price: $250.00

For great success and inner peace. This medallion is known to cleanse past blocks while surrounding one with positive cosmic energies, creating the space for inner peace. The combination of symbols upon Abundance creates in the aura the energy for expansion, abundance and spirituality.

---

Blessings Talisman Price: $250.00

For opening the heart center and revealing the True Self. This medallion opens the heart center and brings many blessings. The combination of symbols upon Blessings will nourish your life-energy with light. As the True Self becomes illuminated, natural healing attributes will develop.

---

Courage Talisman Price: $250.00

For strengthening self-confidence, expanding spiritual and material prosperity. This medallion creates a powerful energy of self-confidence. Others will be moved to invest in your trustworthiness. The combination of symbols upon Courage will build personal confidence, attract opportunities, and clear your spiritual path. You will become more generous as Jupiter's noble influence of expansion is activated.

---

Guardian Talisman Price: $250.00

For strengthening the magnetic field and for protection. This medallion will bring radiance and balance to the aura. The combination of symbols upon Guardian will work with the creative forces of the universe to protect one from all evil and misfortune.

---

Harmony Talisman Price: $250.00

For harmonizing one's spiritual essence with daily life. This medallion will rebuild the connection between your spiritual essence and the fabric of your outward life, stilling inner conflict. The combination of symbols upon Harmony connects you to your spiritual force, creating harmony in all aspects of your life and providing productivity and fulfillment in life.

---

Joy Talisman Price: $250.00

For healing the broken heart and emotional harmony. This medallion heals the broken heart, washing away pain and sadness from the past. The combination of symbols upon Joy will help balance the emotions and assist you in love and family life. A true Divine kindness will surround you and inspire your heart.

---

Spirit Talisman Price: $250.00

The symbols upon spirit will enliven your aura with healing light. In response to the flood of cosmic energy, the mind begins to clear, the physical body to repair and the spirit to expand.

---

Wisdom Talisman Price: $250.00

For revealing life's path and potential. This medallion stimulates your capacity for wisdom. The combination of symbols upon wisdom will build a vortex of strength around you, allowing wisdom to flow forth from your center. Wisdom will give the ability to attract goodness while awakening your life's true potential.

---
Books and Music Catalog | Self-Study Course | Audio Classes | View Cart